CHRIST'S HANDS ACROSS THE INTERNET
Where christians come to share, pray and study.
---
---
HOW TO USE MIRC TO CHAT LIVE ON CHAIN.
---

STEP 1
If you do not have software to access IRC (Internet Relay Chat) click on the appropriate button below for your operating system. If your PC Operating system is Windows ME or XP, use the 32 bit Mirc.




If you are not in the USA you may go to the mIRC home page and use a local link to download. This is shareware and you are encouraged to register it if you like it. NOTE: Macintosh users can contact Michele@chain.org if they need help setting up IRCLE after they have installed it.

STEP 2
If all goes well PC users will start receiving mIRC 6.03 (32 bit version) or mIRC 5.91 (16 bit version) program to your hard drive. If it asks you where you want to save it, just save it on your desktop, or anywhere you choose. Write down where it's saving it to on your hard drive, and the name of the file, so you can find it later.

STEP 3
Double click on the mIRC file you just downloaded. Mirc will install itself.

STEP 4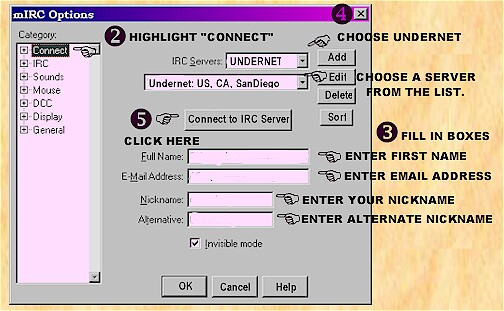 NOW CLICK ON "CONNECT TO IRC SERVER"

STEP 5
This is the final step and then you will be hanging out with all of us fun people on #chain... Keep going! We can't wait to meet you! If all went well, you will see a bunch of text scrolling by on the Status window underneath the window you see here. That just means you established a connection with the Undernet server. You're on the IRC. You're just not in any channel yet where you can chat with people. You will see this window, and you should then type in #chain as you see here. Click on the Add button so that #chain will be in the big list the NEXT time you log on with mIRC, then you can just select it from the list. Once you've clicked Add, click the button that says Join.


---
HOPE TO SEE YOU ON #CHAIN!
Assuming that everything went as planned and the whole IRC didn't come crashing down because you joined (heh heh).... you are now in #chain! Wow! Hey, where ya from? Nice to meet ya!!! If anyone is in the channel when you get there, you will see their Nick in the Users menu on the right side of the #chain window. If nobody's home, you will only see W and your Nick. Don't bother talking to him, he's kinda stand-offish ;-) Actually, W is our "bot". He keeps the channel open and the topic up so everyone will be welcomed properly when they join #chain.

Welcome to the IRC. We hope it will be a fun experience for you and we look forward to seeing YOU there and getting to know you... a few things you should know about us.... We are a friendly, family type channel. Please read the chat guidelines before coming to the channel If you run into trouble, just look for anyone on the channel that has a @ symbol in front of their name. That means they are a channel operator. They should greet you and welcome you to the channel. If you want to message the operator or someone else, type:

/msg (nick) (stuff-you-wanna-say)

Most CHAIN members who have been on the channel for a while will be glad to explain how to take advantage of all the fun stuff one can do with mIRC.


---